The Taliban has announced that they will give full "amnesty" to all members of the Afghan Army and police who desert from the "enemy ranks." The Taliban said they intend to focus on attacking US and NATO forces.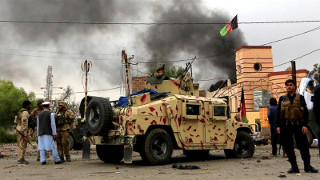 The statement from the Taliban comes amid growing concerns among Afghan leaders that they continue to lose territory, and just days after the Taliban attacked, but were ultimately repelled from, the city of Farah.
The Taliban say that because of the large number of casualties in the Farah fight, they are offering the amnesty as a way to safeguard the lives of Afghan "employees of the regime." The Afghan military already has a very high desertion rate, and the Taliban's comments may increase it in the near term.
Afghan officials are split, however, on the possibility of peace talks with the Taliban. The Taliban has been expressing interest in the talks ever since President Trump ruled out US participation in a negotiation. Afghan officials are said to be unclear if this is a time to approach them, with the Taliban spring offensive having already begun.