EU nations, particularly Germany, were already interested in getting closer to Russia in their joint efforts to save the P5+1 nuclear deal with Iran. Another issue driving them together is the planned Nord Stream 2 pipeline, connecting Russian natural gas supplies to Germany.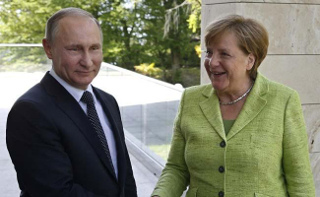 Europe in general, and Germany in particular, need that Russian natural gas. The US opposes the pipeline, however, for deliberately circumventing Ukrainian territory. Russian President Vladimir Putin, visiting German Chancellor Angela Merkel, said that Russia will stand up to US attempts to block the project.
He's not alone. German Economic Minister Peter Altmaier represented US opposition to the pipeline as "America first" policy attempting to secure US exports. He warned Europe would defend its own interests in the matter, even if they conflict with America's.
US officials are downplaying the risk of a "trade war" with Germany over their disagreements, but  have also said they expect German companies to obey US edicts. As these differences go from hypothetical policy issues to real, practical ones with economic implications, Germany may find its interests much more closely align with Russia's, and ultimately conclude that they'd benefit from a more independent, less US-centric foreign policy.