While European parties to the P5+1 nuclear deal are looking to protect their companies from US sanctions, some of those companies are already expecting failure. Siemens CEO Joe Kaeser announced on Sunday that his company will not reach any new business deals with Iran.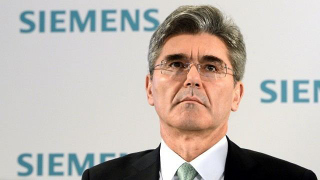 Siemens is a major German company with multiple Iran infrastructure deals. Even though Germany says there are no obstacles to staying in the deal, Kaeser says he fears "targeted retaliation" from the United States if he keeps working with Iran.
This is exactly what the Trump Administration wants. US officials have threatened to sanction European companies that keep doing business with Iran, even though those nations are obliged to do so under the nuclear deal they are still a part of.
Clearly, US officials hope the threats will be enough. Germany, France, and Britain are going to have to do more to convince companies they are safe from the US, and had better do so quickly if they want to salvage the deal.
Iran has made clear that their remaining in the nuclear deal is contingent on the sanctions relief continuing. Siemens' move does not bode well for that, though likely the Iranians will give the EU more time to effect an effort to block US threats.