Having previously reported that time and place were agreed upon, President Trump revealed Thursday that his summit with North Korea's Kim Jong-un will be in Singapore, on Tuesday June 12. The summit was agreed to in March, and several possible locations were under consideration.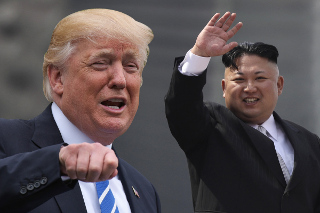 Trump said he believes that he and Kim will be "doing something very meaningful." He said the two would try to "make it a very special moment for World Peace!" in a statement of Twitter. There are clearly high hopes for this meeting.
And there are very good reasons to be optimistic. North Korea has been making very successful diplomatic overtures to China and South Korea in recent months, including an historic recent summit with South Korea's Moon Jae-in. This led to an agreement that the two sides would seek a peace deal to end the Korean War, which began in 1950.
North Korea has made a series of goodwill gestures. On Wednesday, they released three US prisoners, who have subsequently returned to the United States. The Kim-Trump talks are expected to focus on agreeing to a joint denuclearization of the Korean Peninsula. North Korea has a small nuclear arsenal, and the US has at times positioned nukes in South Korea.