Recent talk between China and South Korea of offering North Korea economic incentives if a peace deal and a denuclearization plan are reached clearly have progressed farther than initial reports suggested. During the recent summit, South Korean President Moon Jae-in gave Kim Jong-un a USB drive with specific details of a proposal.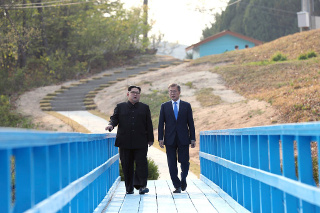 The proposal included a broad economic map for improving the impoverished North Korea. This included offering to build a railroad through North Korea, as well as new power plants. The railroad proposal is likely part of a broader plan to connect South Korea and China by rail lines, which would go through the north.
Combined with the presumptive easing of global sanctions as part of denuclearization, this could be a big step up as North Korea tries to modernize their economy and get on the road to economic growth that both China and South Korea have enjoyed for decades.
South Korean offiicals say they believe Kim's desire for economic progress is greater than his desire for nuclear weapons, and that offering such incentives will further entice him to make such a deal.
Kim has presented the call for denuclearization peninsula-wide as part of broader peace efforts, trying to end the Korean War after 68 years. The assumption in the north seems to be that if peace comes, economic progress will follow anyhow, but getting specific addition incentives is clearly an alluring bonus.