The Israeli military is reporting that the Iranian Quds Force fired 20 rockets at military outposts in the Israeli-occupied Golan Heights. Israel reported some of the missiles were intercepted by Iron Dome. There were no casualties reported.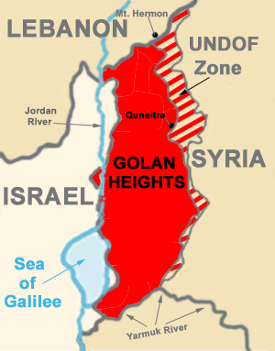 Locals within the Golan Heights reported hearing a number of explosions in the area, and all strikes appear to have been immediately along the frontier between Israeli Golan and Syrian Golan. Israel responded with a military attack on Syria.
The strike on Syria was also not far from the border, against a Syrian base in Quneitra. Syrian state media confirmed the strike against their base, the latest in a series of Israeli strikes on Syria. There is as yet no word on casualties from this strike either.
Israeli officials have been talking up an Iranian "attack" on them for several days, and have been striking Iranian targets in Syria nearly every day since then. Nominally these were preemptive strikes, but it also seems they were determined to provoke a reaction from Iran, and finally have.
What that means now is anyone's guess. Israel has been threatening to attack Syria and impose regime change if Iran dares to challenge them. It's not clear this strike in Quneitra is the start of any such thing, however, or just a continuation of months of escalation on the border.