Kim Jong-un returned to North Korea on Tuesday, the first revelation that he'd actually left the country and spent the last two days in China. Kim flew to the port city of Dalian and met with China's President Xi Jinping.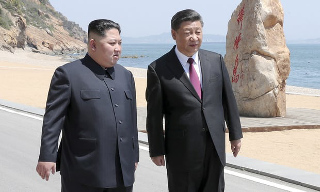 The two-day visit was the second visit Kim made to China in the past 40 days. This is a continuation of North Korea's intense diplomatic efforts in recent months, in the lead up to a summit with President Trump.
Kim was quoted in the Chinese state media as saying his goal was denuclearization and lasting peace on the Korean Peninsula. He expressed particular interest in talking with President Trump on their mutual nuclear issues during the upcoming summit.
Kim is playing host to Secretary of State Mike Pompeo as of Tuesday evening, with President Trump announcing the visit earlier in the day. Pompeo had visited North Korea secretly last month, when he was still CIA director. This visit will be the highest ranking US official visit ever to North Korea.
Kim's previous visit to China was the first time he'd left North Korea since taking power. He's subsequently made two other trips, this week's visit as well s a previous visit to the South Korean side of the demilitarized zone during a summit.