Top Chinese diplomat Wang Yi is visiting Pyongyang, and was told by Kim Jong-un that North Korea is determined to reach a deal on the denuclearization of the Korean Peninsula. This confirms what North Korea had previously told US and South Korean officials.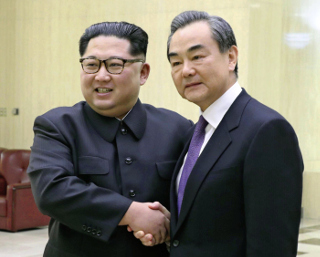 North Korea has a small arsenal of nuclear weapons. Their exact size is a subject of some debate. South Korea has no nuclear arms, but in the past has hosted US nuclear arms. The deal to denuclearize the peninsula would eliminate all nuke-basing in Korea.
This is part of an effort to reduce military tensions in Korea. During last week's summit, the two Koreas agreed to work toward an outright peace deal within a year to end the Korean War. The war began in 1950, and no peace deal was ever reached.
Wang Yi told the North Korean government that China supports the deal to end the state of war, and also supports North Korea's effort to transition to a focus on economic improvement. As with the United States, which has also given its blessing, China was a substantial participant in the Korean War.