Turkey's Foreign Minister Mevlut Cavusoglu confirmed Friday that he met with US Secretary of State Mike Pompeo, and the two reaffirmed a pledge to cooperate on the Syrian city of Manbij. A similar deal was reached between Cavusoglu and former Secretary Rex Tillerson.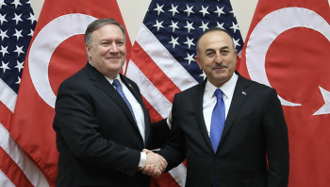 Pompeo, who was confirmed Thursday, arrived in Brussels on Friday,and met with a number of NATO officials, including Cavusoglu. Turkey has been threatening to attack Manbij for quite some time, despite the presence of US troops within.
Turkey doesn't necessarily object to US troops being in Manbij, but objects to US-backed Kurds being there. The cooperation deal sets up a mechanism for the US and Turkey to decide how to resolve Manbij.
That's not easy, however, as Turkey envisions the deal involving the expulsion of the Kurds. The US clearly doesn't picture scrapping its alliance with the Kurdish YPG, however, which is why previous pledges to cooperate have never produced a final deal.