Speaking to the Senate Armed Services Committee, Defense Secretary James Mattis praised the P5+1 nuclear deal. These comments come just weeks ahead of President Trump's May 12 ultimatum to withdraw from the deal if changes aren't agreed to.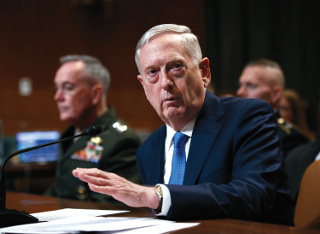 Mattis told the senators that the verification system is "robust," and that gives the IAEA "intrusive ability" to check on Iran's compliance. He in particularly praised what he believes was a deal "written almost with an assumption that Iran would try to cheat."
While Mattis didn't offer any specific complaints about the deal, he did echo President Trump's calls to "repair" the deal. He noted the US is working with EU allies to decide in repairs are enough or if President Trump needs to withdraw from the deal.
Trump and his cabinet are believed to differ on the merits of the P5+1 deal, with Trump opposing the deal and most believing it is too valuable to lose. Mattis' comments clearly put him in the pro-deal camp, as his praise for the verification in the deal comes as oversight remains one of Trump's main complaints. Trump has demanded the IAEA be given access to non-nuclear sites that the IAEA itself insists it doesn't want to visit at all.