CIA Director Mike Pompeo is on track to become the next Secretary of State after the Senate Foreign Relations Committee voted to approve him, 11-9. All Republicans voted in favor, and Sen. Chris Coons (D-DE) voted "present."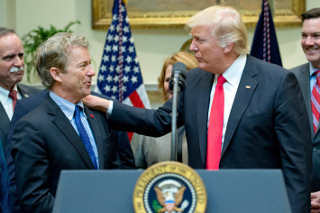 Sen. Rand Paul (R-KY) was the real deciding vote, having switched sides after opposing Pompeo. Democratic Sen. Coons has also initially voted no, but changed to present as a courtesy because Sen. Johnny Isakson (R-GA) was not present, and voted by proxy. Isakson's vote would've made it 11-10, but only 10-10 among present voters, which would've forced Iskason to drive back from a funeral for a second vote.
Paul's change was a surpise to almost everyone. However, Sen. Paul cited multiple conversations with President Trump. During the meetings, Trump assured him that he believes the Iraq War was a mistake and the US must leave Afghanistan, and that Pompeo agrees with him.
President Trump has publicly expressed those positions in the past. Despite that, he's done nothing to end either of those wars. In fact, President Trump announced in August that he'd "changed his mind" on Afghanistan since becoming president. He said this in the process of announcing a substantial escalation of the war.
Paul's reversal prevented Pompeo from becoming the first nominee since 1925 not to get the Senate panel's approval. Without today's vote, it was also very likely that his nomination would've failed outright, while now it appears certain.