Saudi warplanes carried out an overnight attack against a wedding party in the Yemeni town of Hajjah. Two missiles struck the site, and killed many civilians. Medics initially reported 33 were killed and scores wounded. Other officials put the figure as high as 50 slain.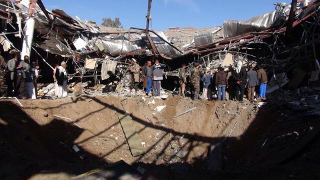 The civilians were mostly women and children, who were in a tent set up for the wedding party. The bride was also killed in the strike, and the groom was among the wounded. Initial reports called the strike a US-Saudi action, but it was later confirmed to be of Saudi origin.
Saudi coalition spokesman Col. Turki al-Maliki was quoted by CNN as saying that there is an investigation into the attack. They refused to comment further until the investigation has been completed. No other officials offered any indication why the wedding was attacked.
This is the latest in a series of Saudi airstrikes that have killed thousands of civilians over three years of war in Yemen. The strikes have been increasingly criticized internationally. UN Secretary General Antonio Guterres on Monday reiterated to the Saudis that they have obligations under international humanitarian law not to hit civilians during the war.
Guterres also called for a transparent investigation. This seems highly unlikely, as Saudi investigations into the other killings have all either resulting in blanket denials, or at the very least no policy changes or announcements.