On Friday evening, President Trump announced that he has ordered the US military to attack Syria's government. Defense Secretary James Mattis reported Friday night that the US attack on Syria was "a one-time shot," at least for now, and that as of 10:10 EST, the US attacks were over. He did, however, not rule out additional US attacks, saying it was "up to Mr. Assad."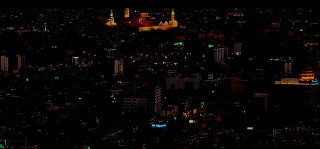 British Prime Minister Theresa May offered a similar statement shortly thereafter, saying the attacks would continue to degrade Syria. French President Emmanuel Macron promised to consult parliament, though apparently not until after he attack.
Trump indicated the attacks primarily against Syria, and Mattis insisted the strikes exclusively targeted Syria's government, not either Iran or Russia. During the Pentagon briefing, it was revealed that three facilities had been targeted, all related to Syrian chemical storing, and scientific research facilities. The attacks were around Homs, and Damascus.
Mattis said roughly "double" the number of strikes were carried out compared to the 2017 US attack on Syria. Dunford said that the strikes had destroyed "important infrastructure" as well as "years of research" on chemistry.
Though naval involvement isn't entirely clear at this point, the US has sent its biggest naval armada to the area since the Iraq invasion. British and French warships were also deployed recently.
The statement comes two days after President Trump, mocking Russia for saying they would intercept US missiles attacking Syria, told them to "get ready." Trump's Friday comments suggested this may be a sustained attack, saying America's "righteous power" would establish a deterrent to chemical attacks, despite Mattis saying it was a one-time thing.
Mattis had been hesitant on the attack up until tonight, and was pressed by reporters on his questions. Mattis claimed he was fully convinced since "yesterday," and that the US had enough intelligence to justify an attack. He did, however, admit that while the US is confident on chlorine gas being involved, he wasn't clear what gas was released.
With respect to retaliation, Gen. Dunford said he was unaware of any US troop losses, and could neither confirm or deny Syrian reports of missiles being shot down. He did, however, say Syrian surface-to-air missiles were deployed against the attack, and did not believe Russia responded at all.
Russia was not given advanced notice of the US attack, either. Gen. Dunford said the US used deconfliction lines to tell Russia that they were using the airspace involved in the attack, but gave them no indication what was being hit.
Mattis also said it was impossible any chemicals could be released by US attacks on putative chemical storage sites, sharply insisting "of course not."