This story will continue to be updated as new details emerge
Mere minutes after President Trump announced that he had ordered the US to attack Syria, reports began emerging from Syria's capital city of Damascus that an air war is starting over the city. Explosions have been reported in Eastern Damascus, and locals describe smoke rising from the area.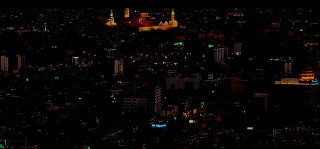 Within Syria is reporting that Syrian air defenses have been firing in and around Damascus, and SANA at least 13 US missiles had been intercepted. Reuters reported there were rumors of a US strike hitting a housing center for the Syrian Scientific Studies and Research Center (SSRC) employees. The SSRC has been sanctioned by the US Treasury Department for involvement in chemical weapons, and targeting of a research site was confirmed by the Pentagon. There are unconfirmed reports of civilian casualties in Damascus.
British warplanes bombed a site near the city of Homs, which was presented by officials as having something to do with chemical weapon storage. Despite this, the Pentagon insisted there was no chance of any chemicals being released into the surrounding area by the attacks.
Air defenses are reportedly active in several locations around Syria this evening. Unconfirmed preliminary reports are that some of the missiles were fired from Jordan, and the Syrian coast is thus-far "quiet." US planes and ships are said to be involved.
Though there were initially unconfirmed reports of Russian air defenses in Syria also being activated, the Pentagon has insisted that was not the case, and that they have no sign of any Russian activity since the attack.
Russia has issued a statement condemning the Western attack, and saying there will be a response. They have not indicated what that will be, however.
And while the Pentagon insisted the US attack is over, the US has also issued a flight advisory, warning civilian aircraft to stay out of Syria, and especially the area around Damascus, because of the ongoing operation.