Despite Defense Secretary James Mattis admitting the US doesn't yet have evidence on an alleged Syrian chemical weapons attack, he and other US officials indicate the US is readying to attack Syria over it. President Trump has publicly announced there will be missiles fired, and US allies are also indicating they'll be involved.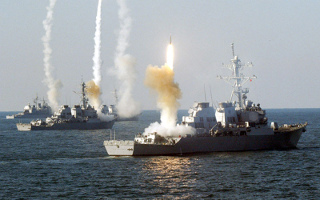 With so little justification, there seems to be a rush to get the war started before cooler heads can prevail. Britain hasn't even given the order to join the attack, but they have already sent submarines to the Syrian coast in anticipation of it.
The British parliament has resisted hasty wars before, and Prime Minister Theresa May seems to have decided that the easiest way around that is act without any parliamentary imprimatur, or indeed any debate. May says the need to attack is too "urgent" to ask parliament.
French President Emmanuel Macron has also indicated his nation will participate in the attack, as has Australia. The Saudi Crown Prince has said they would participate if alliances obligate them to, but did not formally commit.
There is no timetable for a decision on the attack, but officials have said "very soon" since Sunday, which suggests that they are hoping to get the conflict underway as soon as possible. May's interest in starting before parliament can say no likely will also inform the decision to attack early.