Update:
The Syrian Arab Red Crescent statement was reported, and at the time we had no reason to believe it was not true. Subsequent questions have emerged, however, and the International Federation of Red Cross and Red Crescent is saying they are unaware of such a statement having ever been issued by the Syrian branch. They further say the Syrian Red Crescent was shut down in Douma effective April 7.
—
The Syrian Red Crescent issued a statement Monday dismissing the allegations of a weekend chemical weapon attack in the city of Douma. The statement insisted their medical personnel in the city had found no evidence any such attack took place.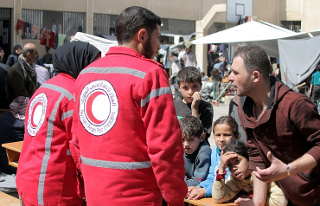 The Syrian Red Crescent said their hospital in Douma received six patients complaining of respiratory problems, but said they didn't seem to have any physical problems at all, nor was there any trace of any chemical agents they might've been exposed to.
(This has been retracted, it is incorrect.)
Chemical attack or no, it wouldn't be surprising for some people to complain of symptoms without actually having any problems. That the Red Crescent operates a hospital in a city supposedly inundated with wounded and didn't get a single patient with confirmed exposure, however, is very noteworthy.
The Russian Defense Ministry also reported that their own medics had examined some patients in Douma, and had the same result, that none showed signs of chemical poisoning. With White Helmets claiming scores killed and over 500 wounded by exposure, it seems impossible to believe that if it was true no one can find any of these "real" patients to confirm an attack.