Having just met with the French Foreign Minister, Turkey's EU Affairs Minister Omer Celik has publicly made clear that Turkey is demanding France choose between supporting them, or supporting the Kurdish YPG.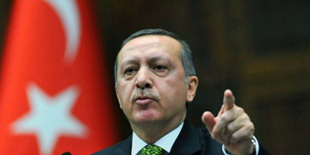 The Turkish government has expressed growing annoyance at NATO nations for backing the YPG, and a lot of that recently has centered on France. This is because President Macron has been very public in backing the Kurds, and suggested supporting them in Manbij.
Turkey considers the YPG terrorists, and has vowed to expel them from all territory in Syria. Turkish officials have indicated they'll attack Manbij, a YPG-held city, even if it means going over US and other NATO troops.
This ultimatum to France is probably going to be presented more formally to the US in the days to come as well. Turkey has long warned they wouldn't let the US keep supporting the Kurds, and with a fight over Manbij looming, Turkey seems set to start making people decide.
A NATO power with long-standing alliances to the US, France, and Britain, Turkey seems to assume that the nations will have to choose them over the YPG. It isn't at all clear that this is the case, however, as all of these nations have invested heavily in supporting the Kurds as allies in Syria, and may not feel comfortable changing sides.