Saudi airstrikes against northern Yemen center chiefly in the far northern Saada Province, a Shi'ite dominated area. If there is a second-favorite target, however, it's clearly Hodeidah, the last port under the control of the northern rebels, and the site through which all humanitarian aid for the north, to the extent it's ever allowed in, flows.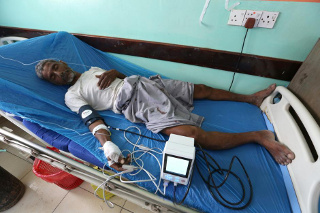 On Monday, a Saudi warplane attacked and destroyed a civilian house in a residential neighborhood in Hodeidah, killing 12 people within, all members of the same family. Several others were wounded. Among the slain civilians were seven children, according to witnesses. Medical aid was not able to reach them for quite some time, and many of the bodies were unidentifiable. Locals, however, say there were no ground forces anywhere near the neighborhood
While Saudi officials said it would be "inappropriate to comment" on the attack, they did say that they take the report seriously and will investigate. That's highly unusual for the Saudis, who generally offer only blanket denials, or claims that everyone slain was a terrorist.
It's unclear why the residential area was targeted at all. Generally, Saudi strikes on Hodeidah focus on port facilities, trying to cripple aid delivery into the city. It is just the latest in a long line of embarrassing incidents where Saudi airstrikes killed civilians for no apparent reason.