US Ambassador to Russia Jon Huntsman Jr. was summoned to the Russian Foreign Ministry today, where Sergey Lavrov announced Russia's retaliation for US and Western expulsions announced Monday. The response closely mirrors the initial move.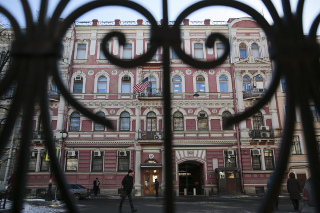 Russia will be retaliating by ousting 150 Western diplomats overall, including 60 Americans. This is roughly the same number as were expelled on Monday and Tuesday. Russia is also announcing the closure of the US Consulate in St. Petersburg, in response for the US closing their consulate in Seattle.
The Western expulsions were nominally about the poisoning of an ex-spy in Salisbury. Russia has denied being behind that, however, and testing on the substances still haven't been completed, and won't be for some time. Britain has been repeating the allegation, however, and praising expulsions as a sign of solidarity.
The Russian government indicated that they would retaliate in kind for the expulsions, and it seems they were quite quick to do so. Since they closely mirror what was done to them, it seems it didn't take long for them to put together the response.