On Tuesday, rebels from Eastern Ghouta fired mortars into the Syrian capital city of Damacus, killing at least 27 civilians and wounding nearly 60 others. The strike was reported in a single sentence article in Reuters, quoting a Russian news agency.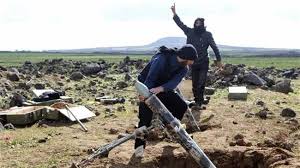 More details were offered in Iran's state-run PressTV, however. They reported indiscriminate mortar and rocket fire against the capital, hitting multiple different sites across the area, and causing a number of casualties.
Though it was not reported, the fire presumably is coming out of Douma, which is the last rebel-held territory in Eastern Ghouta. The Syrian military also reported that the rebels are using "human shields" to prevent military advances.
Eastern Ghouta has been a major focus of the Syrian military because of its proximity to Damascus, which has allowed them both to launch strikes against the capital, and at times to infiltrate districts with small numbers of fighters to cause chaos. Roughly 90% of Ghouta is now under military control.