One of many acts added into the omnibus spending bill signed by President Trump is the Taylor Force Act, which effectively cuts US aid to the Palestinians to near zero levels. It demands the Palestinians end domestic stipends to the families of slain attackers.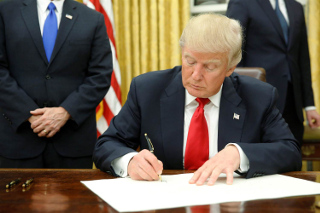 Pushed by Congressmen to try to double-down on cuts already announced, the act is named after Taylor Force, a US Army veteran who was stabbed and killed by a Palestinian in 2016. The attacker was killed, but surviving members of his family are eligible for PA stipends.
Under the new US law, the only types of aid allowed to be provided to the Palestinians are for clean water, and for the vaccination of children. The US is also allowed to provide certain aid to hospitals in occupied East Jerusalem.
Funding to the UN for Palestinian aid seems to be going very close to zero under this. The UN had been expecting $365 million from the US on the matter, but only ever got $65 million, because of previous Trump cuts aimed at punishing the Palestinians for complaining about his decision to declare Jerusalem as Israel's capital.