A calamitous number of civilian casualties were reported overnight in Syria's Eastern Ghouta, where a reported napalm strike hit a pair of underground shelters, burning a large number of civilians within. The use of napalm has not been confirmed, and may be speculation based on the large number of burn victims.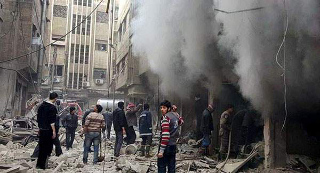 The Syrian Observatory for Human Rights, who attributed the strikes to Russian warplanes, said 37 civilians were killed. The White Helmets reported the same death toll, adding that about 80 other civilians were injured in the strike.
Some suggested the toll was even higher,with al-Jazeera quoting a local "activist" as saying 45 civilians were killed in the attack. The strike was reported to have entered into one shelter, exploded, and the fire spread to a connected shelter.
Though many of the people managed to get out of the shelters alive, the fires were said to have spread extremely quickly, and a lot of the wounded are in grave conditions, receiving treatment for first and second-degree burns.
In the Eastern Ghouta town of Harasta, civilians continue to be evacuated as part of a ceasefire deal. With the Syrian Army nearing total control of the entire Ghouta suburb, it is surprising to see a strike using napalm, which clearly risks high civilian casualties.