After months of speculation that such a move was coming had all but died down, President Trump made a surprise move Tuesday announcing the firing of the Secretary of State Rex Tillerson. The announcement was made via Twitter, and Tillerson reportedly found out on Twitter.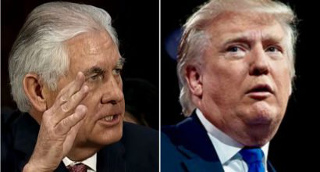 Trump said of the firing that he an Tillerson had "different mind-sets." Trump intends to replace him with CIA Director Mike Pompeo, about whom he said "we have a similar thought process." The move is raising a lot of questions as to why.
Indications are that the immediate cause was that Tillerson endorsed the idea that Russia was behind the poisoning of an ex-spy in Britain, after the White House had already said they weren't going to accuse Russia for the incident.
Tillerson didn't just contradict the White House, but reporters say he made several other "on-record comments" against Russia during the flight back to the US from his Africa trip. Pompeo is seen as much less hostile toward Russia, and this is believed to be the driving force in the sacking.
Not that it was a single-issue move, with Rep. Nancy Pelosi (D-CA) going so far as to claim that Trump effectively fired Tillerson at the behest of Russian President Vladimir Putin. The change sets the stage for a State Department hat's a bit more friendly toward Russia, however.
But of course that's not the only change. Pompeo and Tillerson differed on a lot of issues. Pompeo in particular is seen as very hawkish on Iran, which is leading the Israeli press to conclude that the Netanyahu government will be happy with the change.
Pompeo is also seen as a lot more critical toward North Korea, as Tillerson was long inclined to diplomacy, earning multiple rebukes for it. With Trump heading toward direct talks with North Korea's Kim Jong-un, it's a bit of a surprise that Pompeo will be taking Tillerson's place.
But that underscores how many intertwining issues are involved in this sort of replacement of a top US diplomat. The importance of US diplomatic stance on several different issues is very important to overall US military policy, and both Tillerson and Pompeo have their pet issues on which they are hawkish, or at other times more inclined toward reasonable dialogue.
While there is a tendency among analysts to try to settle on a specific conclusion of what such a big change means ahead of time, the reality is that the full impact of these changes is going to be impossible to predict for quite some time.