Reports out of South Korea suggest that among the priorities for North Korea's Kim Jong-un in upcoming talks with President Trump is to secure a peace treaty and to establish formal diplomatic relations with the US.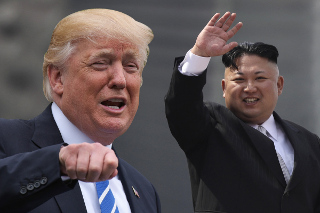 That would be a huge accomplishment. The US and North Korea have been in a state of war since 1950's Korean War, which "ended" with an armistice in 1953. This was intended to cease hostilities pending a peace treaty, but that treaty never happened.
President Trump has been very optimistic about the chances of these talks. The US is seeking denuclearization of North Korea, while North Korean officials have also suggested a priority is assuring they don't get attacked by the US.
North Korea, however, hasn't said much of anything publicly since the talks were announced Thursday night. White House officials downplayed this, saying they remain confident that the talks will take place.
North Korea offered the talks in the first place, after all, with the proposal delivered through South Korea's delegation, which visited both Pyongyang and Washington D.C. last week. North Korea may feel all that needed saying was int he letter itself.