Turkey's President Erdogan has issued a statement Friday claiming further progress in the invasion of northern Syria's Afrin District, reporting that the district capital, the city of Afrin, is now surrounded and entry into it "is imminent." He said forces were just 6 km from Afrin.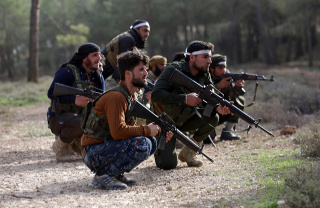 The Kurdish YPG is contesting this claim, however, with YPG spokesman Nouri Mahmoud saying that the Turks are more like 10 to 15 km away from Afrin, and that they definitely do not have the city surrounded.
There are seven population centers within Afrin District, and Turkey controls five of them at the moment. Erdogan presented Afrin itself as the last real obstacle to taking the Kurdish district and placing it under the control of Turkish-backed rebels.
Turkey invaded Afrin in January, and says the intention is to attack Manbij next. The city of Manbij, also held by the YPG, was captured from ISIS in a joint US-Kurdish offensive. US troops remain in the city, and a Turkish invasion risks putting the two NATO allies into direct conflict with one another.