Following reports from the Pentagon that the war against ISIS in Syria is "paused" because of the transition of Kurdish YPG fighters away from the ISIS front to defending against Turkey's invasion, the Turkish government has formally requested the US intervene to prevent the Kurds from moving those fighters.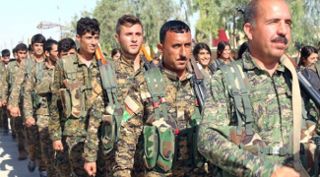 Turkey invaded the Kurdish-held northern Syrian district of Afrin in January, and has been escalating that invasion ever since. This is the first stop in what Turkish officials say is an outright attempt to drive the Kurds away from border areas.
With Turkey promising to keep expanding the invasion, the Kurdish YPG has been eagerly shifting reinforcements toward Afrin, trying to resist the invasion before it gets out of hand. Thousands of such fighters have been dispatched in the Afrin direction from eastern areas, where they were fighting ISIS.
Turkish President Erdogan's spokesman says the request to the US was sent through appropriate channels, adding that asking the US to block the Kurds was "our most basic natural right" and that Turkey expects the US to comply.
US officials haven't indicated if they'll try or not, but there's little reason to think that the YPG, already a bit cross at the US for not preventing the Turkish invasion in the first place, is going to forestall its reinforcements just because the US tells them to.