It has been a little over two weeks since the Syrian Army launched its most recent offensive against rebel-held Eastern Ghouta, a suburb of Damascus. The push has included intense air and artillery strikes, and a costly civilian death toll.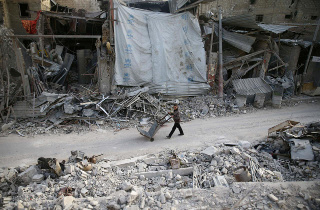 According to the Syrian Observatory for Human Rights, some 800 civilians, including at least 177 children. A lot more civilians have been killed in this fight than combatants, by all accounts, though no reliable figures exist on how many combatants were slain on either side.
Roughly a third of rebel-held Eastern Ghouta has fallen over that period of time, leading civilians to flee deeper into the area. Russia is suggesting they flee the other way, however, offering everyone, including rebels, safe passage out of Ghouta.
Syria and their allies are eager to get the rebels out of Eastern Ghouta, because it is the last substantial rebel-held territory this close to the capital city. Eastern Ghouta has been used for artillery strikes against Damascus, and at times, outright infiltration into the capital.