Substantial progress was made Monday in Pyongyang, where a South Korean delegation met with North Korean leader Kim Jong Un on day one of a major two-day discussion on continuing to improve diplomatic relations.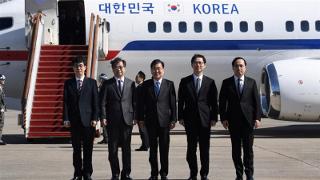 North Korea's state media even reported that the discussion included an agreement reached between the two sides, though exact details on what was agreed upon were not made public. Among the things agreed to, however, was to continue to work toward a summit in which Kim and South Korea's President Moon Jae-in would meet.
The delegation in Pyongyang now, and the North Korean delegation to South Korea's Winter Olympics weeks ago were both among the highest profile diplomacy between the two Koreas in history. A direct summit, however, would be truly unprecedented.
The main goal of the South Korean visit, however, is to try to lay the groundwork for direct diplomacy between the US and North Korea. The South Korean delegation is scheduled to travel directly to the US after ending the North Korean visit, and will be briefing top US officials on the progress made, trying to coax along more diplomatic progress.
Whether that's going to be possible or not remains to be seen, as President Trump's Saturday speech, in which he demanded that North Korea "de-nuke" as a condition for talks, suggests North Korea's willingness to have talks without precondition may not be enough to entice the administration to the table.