A US war in North Korea would be bloody, with tens of thousands of US soldiers killed and millions of civilians on the Korean Peninsula. A recent US exercise projected brutality "beyond the experience of any living soldier," according to Army chief Gen. Mark Milley.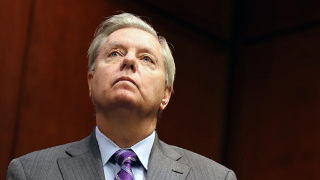 Sen. Lindsey Graham (R-SC) tried to sum that up in two words – "worth it." The notoriously bellicose senator insisted that the disastrous number of deaths would definitely be worth it to the US government as a boost in "long-term stability."
At least more stability for the survivors. North Korea has always had a retaliatory capability to wipe out much of South Korea, and the development of nuclear weapons only risks making the consequences of a US attack on North Korea that much greater, and more calamitous.
Graham's position on the deaths of literal millions isn't necessarily shared broadly among US politicians, though President Trump has long favored a narrative suggesting that he is on the verge of launching such an attack, and that has necessarily kept Graham's hopes up.