Speaking in London, Iran's Deputy Foreign Minister Abbas Araqchi has warned that the problems with the P5+1 nuclear deal are not the US trying to change terms and threatening to withdraw, but that the US already is failing to abide by the deal in the first place.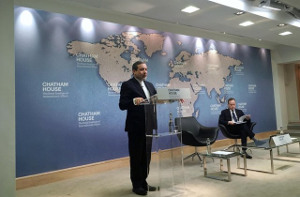 Araqchi further warned that the deal is already at risk of crumbling apart because US threats are keeping Western banks from doing business with them, which is preventing sanction relief they were promised under the deal.
This isn't a new complaint from Iran. Many European countries have signed deals with Iran since the pact was made, only to struggle to find banks, even European ones willing to process them. The banks suggested they feared US punishment for cooperating under the terms of the deal.
Iran has filed repeated grievances, to little effect, and there's been talk of European nations like France directly financing deals to allow them to avoid working with the banks, though Iran remains clearly annoyed that the deal isn't working as intended.
Last 5 posts by Jason Ditz