Israel's far-right coalition government has been pushing for a "nation-state" law that compels their court system to consider maintaining a Jewish majority, Jewish state of Israel. Justice Minister Ayelet Shaked made clear in comments this week this must be true even at the expense of human rights.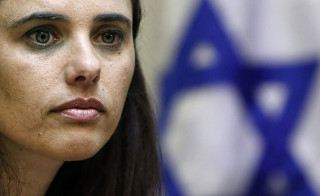 Shaked, a top member of the Jewish Home party, says maintaining a Jewish majority and "acting democratically" need to be equal priority, though of course the assumption within the coalition is that ensuring a Jewish voting majority would allow them to discriminate against minorities under the guise of democracy.
She went on to say that while the courts could interpret "equality" very far, they must accept hat the Jewish State "sometimes comes at the expense of equality," and that non-Jews can not expect equal national rights.
Shaked further insisted that were it not for Israel treating minorities less than equal, the nation would be facing "a kind of creeping conquest from Africa," because Africans would be coming to Israel in larger numbers.
Last 5 posts by Jason Ditz