Speaking to the KCNA state media outlet, North Korea's Kim Jong Un appeared very upbeat about continued diplomacy after the Winter Olympics, saying that he sees a "warm climate of reconciliation and dialogue," and that keeping up with the dialogue is important.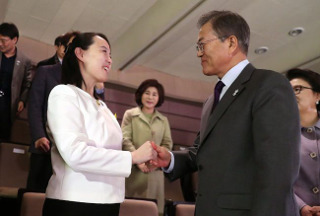 It's hard to believe that about a month ago, the two Koreas had no direct contacts at all. A couple of brief meetings in the DMZ led to North Korea sending a very high-level delegation to the Winter Olympics, and that's led to a lot of opportunities for talking, and expressions of unity.
Now, the two nations are riding high on the Olympics, and South Korea's President Moon has a standing invitation to visit North Korea, an opportunity that would potentially be even more significant than what's come so far.
Kim says he believes South Korea's accommodation for their last minute Olympic involvement was "very impressive," and while US officials continue to downplay the chances of the diplomacy amounting to anything, it seems it already has, and both Kim and Moon are looking to build on the strong foundation they've suddenly got.
Last 5 posts by Jason Ditz