Speaking at the Israeli Knesset, Vice President Mike Pence gave a speech loudly praising "the miracle of Israel," and presenting America's support for Israel as a question of siding with good over evil.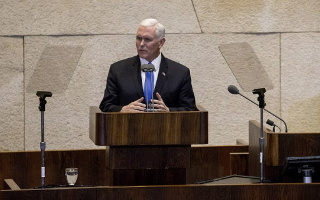 Pence focused heavily on defending President Trump's recognition of Jerusalem as Israel's capital, citing biblical stories about the city, and suggesting that King David's declaration of it as the capital millennia ago still applies.
Pence also promised that the relocation of the US Embassy from Tel Aviv to Jerusalem would be finished by the end of 2019. President Trump has previously sought to avoid putting a specific timetable to the move, and other officials have suggested it might take awhile.
Pence also used the speech to attack the Iran nuclear deal, terming the pact as a "disaster," and accusing Iran of being a brutal dictatorship that seeks to dominate the entire Arab world. He vowed the US would "no longer certify" the deal, leading to applause from the Israeli MPs.