From Turkey's initial invasion of Syria at Jarabulus, officials couched it as not just an invasion against ISIS, but against the Kurdish YPG as well. This weekend, Turkish troops pushed into their first YPG district, Syria's Afrin District.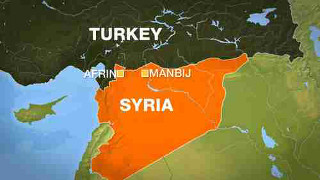 Turkey's President Recep Tayyip Erdogan presented this offensive as starting in Afrin, then hitting Manbij, the other Kurdish territory west of the Euphrates. After that, the troops are expected to focus on the border territory, which is all east of the Euphrates.
Not that the Turks are likely to just roll over the Kurds without substantial resistance, after years of US arming of the YPG. Indeed, already the YPG retaliated for the invasion with a missile strike against the Turkish border town of Reyhanli, killing one, wounding 32.
This is a tough position for other participants in the Syrian War. The US, in particular, is an ally of Turkey, an ally of the YPG, and also an ally of the Free Syrian Army (FSA), a rebel group which has pledged Turkey 25,000 fighters to support the invasion. Both the YPG and FSA are awash in US-provided arms, with the Pentagon having armed YPG, and the CIA armed the FSA.
The US calls for "restraint" are likely not to please anyone, however, as each group is going to see the US is insufficiently supporting them. Turkey has already warned anyone who doesn't totally endorse the invasion is "supporting terror."
Syria is facing a similar problem. They don't get along with the YPG, FSA, or Turkey, but feel obliged to oppose Turkish invasions of their territory. Since Turkey tends to give conquered Syrian territory to the FSA, Syria is liable to support the YPG, who aen't outright rebels, but rather seek autonomy.