Friday in Palestine once again means large demonstrations across both Gaza and the occupied West Bank, as locals continue to demonstrate against President Trump's declaration of Jerusalem as the capital of Israel.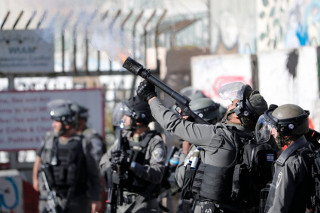 And protests in Palestine mean Israeli troops out in force to crack down on the protesters, with reports out of the region that well over 100 protesters were wounded, including at least 41 shot with live or rubber bullets, and another 100 or so suffering from tear gas inhalation.
President Trump made the Jerusalem declaration back in early December, and immediately sparked large protests worldwide, along with rejections from virtually every country in the world.
But Palestinians, who see East Jerusalem as their own future capital, have continued their protests, first daily, and now every week on Friday. Israel's crackdowns and arrests of "organizers" have so far failed to put a dent into the rallies, and well over a month later there is no sign of them ending.