The Pentagon has announced that they are investigating an incident in which a US soldier was wounded after being shot by a pro-government Afghan militia in the Nangarhar Province.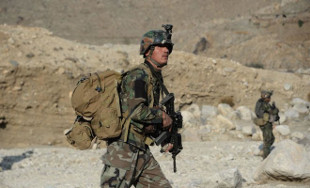 Details are still not entirely clear on what happened, but the US troops were in an "active ground engagement" in the Achin District of Nangarhar, an area that has one of the biggest numbers of ISIS fighters in Afghanistan.
A local MP claimed two US soldiers were killed in the incident, though the Pentagon denied any troops were killed, and only one wounded. The MP also says a US airstrike was called in against the militia, killing 22 of them.
Insider attacks were a huge problem for US troops in Afghanistan until recent years, when rules were put in place to limit direct contact between US and Afghan security forces. The US has recently relaxed those rules to allow more embedding of troops in Afghan forces.