Reports from Tuesday say at least 24 civilians, including 10 children, were killed in airstrikes against a rebel-held part of Eastern Ghouta, the Syrian rebel bastion east of the capital city of Damascus.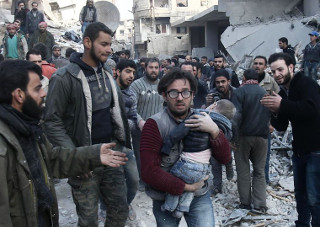 The Syrian Observatory for Human Rights reported the attacks, and said rebels fired on Damascus in retaliation, reportedly killing four people. Reports are unclear, however, on whose warplanes hit Eastern Ghouta in the first place.
The Syrian military is engaged in an ongoing offensive there, trying to clear out the last of a shrinking rebel position, but both they and Russia have conducted airstrikes in the area in recent days, and its not clear who was the one that hit the civilians.
Eastern Ghouta has been a rebel-dominated region through most of the Syrian War, though it's been shrinking in recent months, with military advances slowly clearing out the outskirts and pushing what's left into a smaller, and smaller territory.