Pakistani leadership are trying to downplay the significance of new US aid cuts, insisting they the US has cut back aid so much to begin with that any further cuts are financially insignificant. But there's more than money involved.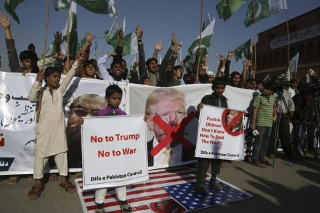 Repeated condemnations of Pakistan by President Trump, who accuses them of "deceit" and being in league with terrorists, is fueling a lot of anger, both among officials and the Pakistani public, and is leading to calls by some influential figures to distance themselves from the US more formally.
US criticism of Pakistan on vague terms far predates the Trump Administration, but President Trump has been a lot less subtle about navigating the situation, and more eager to vilify Pakistan in general, having now announced a full cutoff of military aid.
The significance of the cutoff as a financial measure isn't even clear from the US perspective, as State Department officials who announced the measure conceded that they as of yet don't know how much money is being withheld. Private estimates are between $250 million and $400 million, which isn't a huge financial loss for a nation the size of Pakistan. Rather, the insult that goes with it is far more meaningful, and could have an impact long beyond what State Department officials say is a temporary withholding of aid.