Faced with growing reports from humanitarian groups and media outlets about their naval blockade of Yemen, and the Trump Administration's repeated calls to open up access, the Saudi-led coalition feels the need to actually comment on the matter.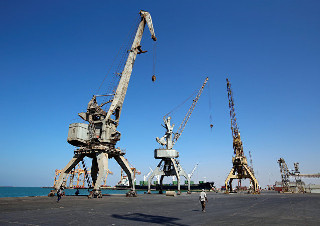 The coalition, incredibly, claims that no blockade at all exists, despite the large number of ships they continue to prevent from docking at the port of Hodeidah to drop off food, water, medicine, and fuel. The Saudis insist there is "no evidence" that the aid is blocked.
This argument appears to be based on the fact that the Saudis are allowing aid into "loyal" ports that support their invasion of the country, while Hodeidah, the lone port responsible for some 15 million people in North Yemen, remains virtually entirely closed.
The denial isn't going to convince most, though the Trump Administration has often praised the Saudis for promising to end the blockade, without actually doing so, and the Saudis may believe his will work just as well.
Last 5 posts by Jason Ditz