Weeks after the fact, President Trump's declaration that Jerusalem is the capital city of Israel continues to fuel massive protests, with thousands of Palestinians continuing to take to the streets on Fridays to condemn the declaration.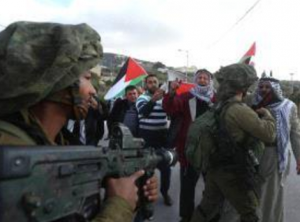 For the fourth straight week, protests erupted in force after Friday's prayers, and for the fourth straight week the Israeli military responded by declaring them "rioters" and conducting a violent crackdown. Some 56 Palestinians were wounded.
And while there were protests across Palestinians, most of the casualties were on the Gaza Strip border, where even though the Palestinians were inside Gaza, and the Israeli troops were inside Israel, troops shot dozens of "instigators" in what they claimed was self defense.
The injuries, as with last week, were predominantly people hit with live ammunition, reflecting the Israeli military's quick abandonment of non-lethal rounds at the protests in favor of just using standard bullets.