Civilian deaths have been mounting for weeks in Yemen, as Saudi airstrikes escalate. On Tuesday, Saudi airstrikes against two different sites killed at least 68 Yemeni civilians and wounded scores of others.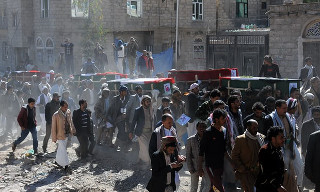 This is becoming disturbingly common, with civilian deaths pretty much daily, and scores killed on a regular basis, leading to growing disquiet about the Saudis for indiscriminate attacks on Yemen, showing complete disregard for human life.
One UN official went on to criticize the war in general, now deep in its third year, saying that there is clearly no military solution, describing the Saudi invasion as "an absurd and futile war."
Saudi officials have not offered any statements on the killings, but have claimed to have allowed a handful of aid ships into the port of Hodeidah over the past week. Though the UN has pushed for the port to be opened entirely, the Saudis only allowed a small fraction of the ships in.