Iraqi commanders have announced on Friday that they are deploying Shi'ite militia forces to the border with neighboring Syria, aiming to shore up defenses for border forces who have been under fire from ISIS.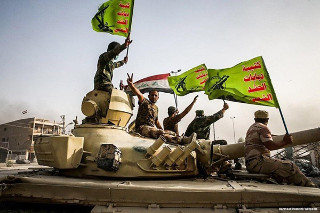 After the loss of virtually all of their towns, ISIS forces dispersed into the desert of Syria's Deir Ezzor Province. The long Iraq-Syria border is mostly empty desert, and that makes it easy for them to target guards in remote areas.
Officials say that technically, the border region is supposed to be outside of the area of operations for the militias, but that they are making a special case because of the growing amount of cross-border fire.
ISIS has forces both in Deir Ezzor and in the desert areas in neighboring Iraq's Anbar Province, and while they don't control any real locations of value, they are spread around the area, and eager to carry out surprise attacks whenever the opportunity presents itself.