Responding to growing questions about their Friday crackdown on Palestinian protesters, the Israeli military opened, and pretty much immediately concluded, an investigation into the killing of 29-year-old Ibrahim Abu Thraya, a double-amputee who was shot in the head during the protests.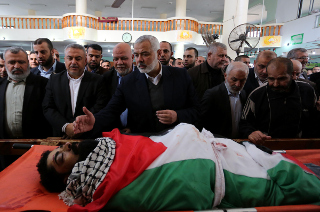 Unsurprisingly, the Israeli military signed off on the incident, insisting that there was "no wrongdoing" in the killing of Abu Thraya, and "no moral or professional failure" among Israeli troops dealing with what they said was an "extremely violent" protest.
Indeed, the military insisted it was "impossible" to determine a cause of death for Abnu Thraya, though the medics who treated him were very clear about him having been shot in the head with live ammunition.
Abu Thraya lost both of his legs in an Israeli airstrike in 2008 during the Gaza War. He was shown in photographs before his killing holding a Palestinian flag. Israel has insisted that the people they shot in Gaza were "organizers" or people with weapons, though neither appears to have been the case here.