US Ambassador to the UN Nikki Haley presented what she called "irrefutable" evidence that a Yemen-fired missile was of Iranian origin on Thursday, but there remains substantial speculation about what, if anything, she actually proved in the presentation.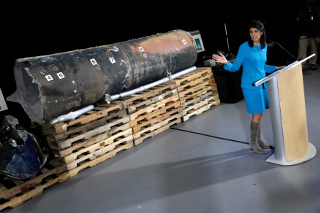 Haley pushed the idea that the missile shown, apparently the one fired at the Riyadh airport by Yemeni forces, was provided by Iran, saying the UN had said this was the case. The UN, however, never made any such finding.
France was very clear about how skeptical they are of the Haley comments, noting that the UN has not drawn any conclusions themselves, and French officials are still working with very limited data regarding the allegations.
Haley's presentation was very light on specifics, and appeared to just echo Saudi Arabia's own allegations of the missile being from Iran. That the US finds the Saudi narrative convenient is unsurprising, as they're eager to move against Iran on any pretext. With Yemen insisting they made the missile themselves, however, the lack of evidence to the contrary is going to raise a lot of doubts.