The latest in a long series of Saudi airstrikes against targets inside Yemen, Saudi warplanes on Wednesday reportedly attacked a military police camp and adjoining prison in the capital city of Sanaa.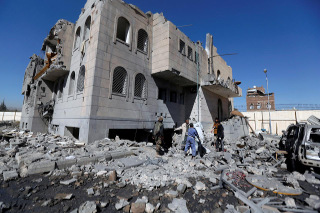 At least 39 people were killed in the seven strikes against the facility, and over 90 others were wounded. Details on the split between police, bystanders, and prisoners in the casualties are as yet not available, though the Houthi movement said at least four of the presumed killed haven't been recovered yet.
The Saudis offered no details on the attacks, including why a prison was targeted int he first place. The Houthis reported the prison holds some 180 prisoners, though they didn't say what sort of prisoners they are.
Rescue teams are still going through the rubble, which may suggest that the casualty levels are not finalized.