On Wednesday, President Trump issued a public statement demanding that Saudi Arabia immediately open up Yemen's ports, particularly Hodeidah, to humanitarian aid. Despite the urgency and public nature of the demand, nothing happened.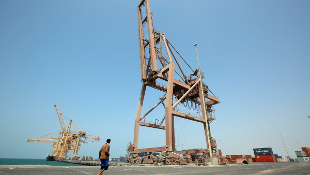 UN Humanitarian Coordinator for Yemen Jamie McGoldrick says that there has been "no progress" seen with respect to the Saudi blockade of Yemen, adding that there are 15 aid ships, mostly laden with food and fuel, still parked off the coast waiting for permission to reach port.
White House officials say that they believe "actions are taking place" which will lead to the Saudis opening up the port to the humanitarian aid. They promised an update, but offered no timetable for when anything might happen. The Saudis have been totally mum.
This follows a previous call last week by the US to ease the blockade, which similarly didn't really happen but which the White House subsequently praised the Saudis for at any rate. The US has at times participated in the blockade of Yemen, despite their newfound objection to the mass starvation and death it is causing.