Pentagon spokesman Eric Pahon announced on Tuesday that the US intends, as a matter of policy, to keep ground troops in Syria "as long as necessary," irrespective of the fact that ISIS, the group they were initially deployed to fight, has almost no territory left in the country.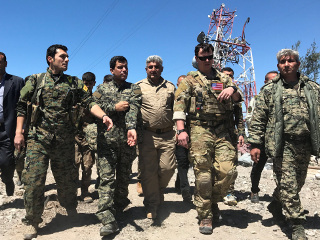 Pahon says US troops are going to stay to "support our partners and prevent the return of terrorist groups," both goals which, one must note, are absolutely open-ended, and unlikely to ever be declared "accomplished."
Though the Pentagon had long been very public about the fact that their deployment to Iraq was a permanent one, the war in Syria is different, in no small part because the Syrian government never authorized US troops to deploy there, and isn't supporting the idea of them staying.
Instead of making it lawful, US officials are playing up the idea that a "new ISIS" could emerge at any moment, rising as if magic from the desert sands, and the US wants to have troops deployed in such areas just in case.