The sudden and exceedingly violent fighting between the main Yemeni opposition factions seems to be coming to a halt, according to UN officials, who say that the capital city of Sanaa was largely silent Tuesday after five days of fighting.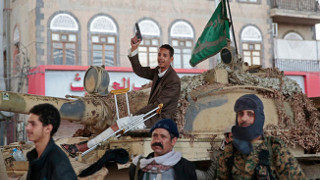 The General People's Congress (GPC) appears largely defeated since the assassination of their leader, former President Ali Abdullah Saleh, and his deputy leader Monday. The group doesn't look likely to recover.either, with reports his presumed successor, nephew Tariq Saleh, has also died.
Heavy fighting between the two factions was adding to an already dire humanitarian crisis, and while it's unlikely that the city is heading back to full calm immediately, the worst of the street fighting may be over.
What this means for Yemen's opposition going forward is unclear. Saudi-backed forces are now claiming they're out to avenge Saleh, who they'd repeatedly tried to kill in the past couple of years, but the real loss is likely to be at the bureaucratic level within Sanaa, where GPC officials who were in positions running rebel-territory are likely all ousted at this point, and the Houthis are going to have to find replacements for them.