For the first time in weeks, food aid has actually arrived in northern Yemen Sunday, with the first ship carrying 5,500 tonnes of flour finally reaching the port of Hodeidah, after being kept out of the port by a long-standing Saudi blockade.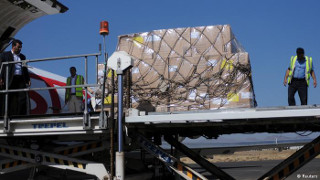 The Saudis had promised to allow food in starting at noon last Thursday, but hadn't done so for several days. Before the war, Yemen had to import some 90% of its food, and about 15 million people are dependent on food aid just from this single northern port.
The World Food Program confirmed this first ship arrival, and says another 25,000 tonnes of wheat are to be offloaded at the port on Monday, at least assuming the blockade remains lifted.
For the time being, the indication is that the only ships allowed to deliver aid are from the UN or a handful of specific aid programs. There is still no indication on whether the deliveries of other important goods like clean water and medications will be permitted.