US military intentions in Syria have never been exactly transparent, but are becoming ever less so, as Pentagon officials loudly declare ISIS to have been "defeated" in the country, but insist that they intend to remain.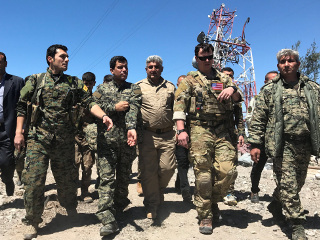 This is a potential major legal issue, because Syria never authorized the US invasion in the first place. US officials always presented the authorization as being UN resolutions supporting the fight against ISIS, but that would no longer apply.
Moreover, Russian Foreign Minister Sergey Lavrov has pointed out that Secretary of State Tillerson has repeatedly assured him that the "only" US goal in Syria is to fight ISIS. This is adding to Russian concerns about what the US is actually planning on doing next.
Secretary of Defense James Mattis is trying to present this as keeping "ISIS 2.0" from coming into existence. While this is also the pretext for staying in Iraq, there is a major difference between a permanent deployment in Iraq that the US-backed government there supports, and trying to stay in Syria forever despite explicit opposition from the Syrian government.